CY- MIOP500 is a high vacuum multi arc ion coating system that uses arc discharge to ionize conductive materials and uses its advantages of good diffraction to generate high-energy ions and deposit them on the substrate (especially porous substrates such as foamed nickel) to prepare nano-scale thin films Coating or nanoparticles. It is mainly composed of coating chamber, multi-arc target, multi-arc power supply, pulse bias power supply, sample stage, heating, vacuum system, gas circuit system, PLC and touch screen semi-automatic control system, etc.; the equipment host and control integrated design, easy to operate; The structure is compact and the floor space is small.
This series of equipment is widely used in teaching, scientific research experiments in universities and scientific research institutes, as well as preliminary exploratory experiments and development of new products in production enterprises, and are well received by users.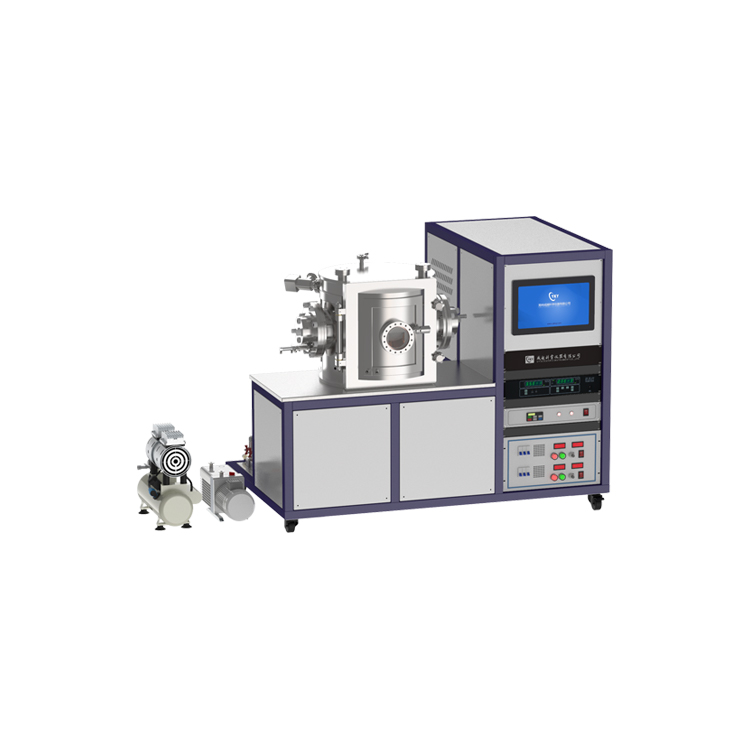 multi arc ion coating main purpose:
Preparation of multiple amorphous alloys.Preparation of metal compounds, such as oxide and nitride films (oxygen or nitrogen atmosphere).Preparation of nano-particle catalyst membrane.The thermoelectric material target is used to prepare the thermoelectric effect film.
multi arc ion coating technical parameters of the equipment:
1. Vacuum chamber

Ф500×H420mm, 304 high-quality stainless steel, front door structure; heating temperature of the chamber: room temperature~350±1℃;

2. Vacuum system

Composite molecular pump + direct-coupled rotary vane pump + high vacuum valve combination high vacuum system, digital display composite vacuum gauge;

3. Vacuum limit

Better than 6.0×10-5Pa (no load, after baking and degassing);

4. Leak rate

Equipment boost rate ≤0.8Pa/h;

Equipment pressure keeping: After stopping the pump for 12 hours, the vacuum is less than or equal to 10Pa;

5. Pumping speed

(No load) Pumped from the atmosphere to 5.0×10-3Pa≤15min;

6. Substrate table size

Φ150mm, 3 rotation stations;

7. Substrate table rotation

Substrate rotation: 0-20 rpm;

8. Sputtering target

2 sets of DN100 new magnetic filter multi-arc target

9. Pulse bias power supply

-1000V, 1 set;

11. Control method

PLC+touch screen man-machine interface semi-automatic control system;

12. Alarm and protection

Alarm and implement corresponding protection measures for abnormal conditions such as water shortage, over-current and over-voltage, open circuit, etc. of pumps and electrodes; complete logic program interlocking protection system;

13. Occupation

(Host) L1900×W800×H1900(mm).