8 inches Economic Desktop high speed spin coater is mainly used for liquid materials, gels, flowable pastes and other film materials. It can provide controlled high-speed rotation in an instant, and is quickly a liquid, gel or other material on the substrate. Uniform film formation, easy to operate, easy to clean, small size, so the equipment is widely used in colleges and universities and research institutes.
8 inches Economic Desktop high speed spin coate working principle:
When the spin coater is working, the sample is fixed on the sample tray by bonding, and then the spin coater sets the number of revolutions of the device within a certain range, and sets a certain injection time in the range of the number of revolutions to note the sample. Glue, after the injection is finished, the spin coating machine can increase the number of revolutions to the limit number of revolutions, and set the glue time before the glue is glued. When the glue time is over, the machine stops automatically, and the whole process of the film is finished.

8 inches Economic Desktop high speed spin coate Main Feature:
1. The mechanical micro-clip plate can hold tiny round, square, rectangular, hexagonal, etc. shaped sheets(Optional). Saves money and reduces environmental noise compared to vacuum pumps.

2. Working chamber: NPP material, NPP has excellent chemical stability and is inert to most acids, alkalis, salts and oxidants, for example, in concentrated phosphoric acid, hydrochloric acid, 40% sulfuric acid and their salt solutions at 100 °C. They are all stable. ,
3. Working chamber, detachable, easy to clean, the upper cover of the working chamber is transparent, easy to observe the film forming process, transparent working chamber closed coating experiment, no liquid, colloid splash, work environment is hygienic and safe.
4. Chassis, stainless steel casing, the outer surface is clean and bright. Beautiful and easy to clean.
5. The structure design has no belt, no carbon brush, and there is no wearing parts that need to be replaced due to long time travel. Low mechanical noise, meeting laboratory requirements. Smooth operation.
Here we follow the theory of equal life design in mechanical design. It ensures that users can use it with confidence.
Economic Desktop high speed spin coate Product Detail: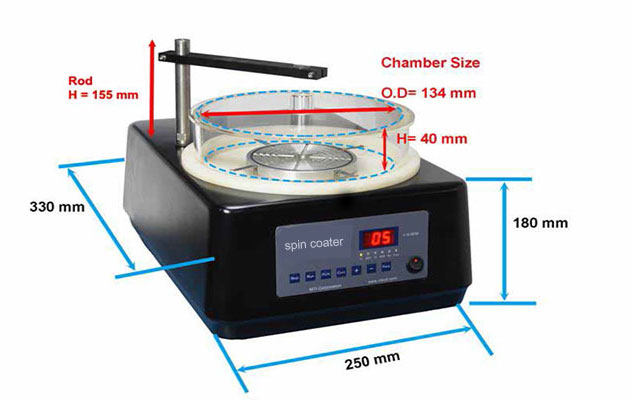 13''(L) x 10''(W) x 7''(H)
Chamber size is 134mm diameter, can accept wafer sample 4" diameter at Max.Can also be customized.
Two 4" stainless steel spin plates are included, which can hold one or multiple samples by wax or double-sided tape, It is easy and more economical than vacuum chuck。
One roll of 3M removable double-sided tape (3/4' W x 400" L) is included for immediate use .
Economic Desktop high speed spin coate Specifications:
Working Voltage

110V AC / 220V AC selectable

Structure

Heavy duty Aluminum casting case to keep spinning stable
110VDC motor
Can not be used under Ar gas

Spin Speed & Time

Digital control panel with TWO programmable segments for different spin times and speeds
Spinning speed: 500 - 8000 RPM
Spinnning Time: 1 - 60s

Injection

One 20 mL syringe is included for liquid injection
Support rod and swing arm of injector are included for easy coating
The syringe holder height can be adjusted and rotated freely along the support rod

Net Weight

30 lbs

Compliance

CE Certified

Warranty

One year limited with lifetime support
Rusting and damage due to improper storage condition or maintenance are not covered by warranty

Operation Instructions

Ask our staff

Application Notes

In order to achieve optimal coating quality, please consider cleaning substrates by a plasma cleaner,prior to coating. This will significantly reduce the surface tension on the substrates.

Shipping Dimensions

20"(L) x 16"(W) x 18"(H)

Shipping Weight

38 lbs
Economic Desktop high speed spin coate Standard Packaging:
| | | |
| --- | --- | --- |
| Item # | Description | Qty |
| 1 | VTC-50 Desktop Spin Coater | 1 |
| 2 | 4" Dia. Spindle Plate (one installed and one included in package) | 2 |
| 3 | Plastic Cover for operation safety | 1 |
| 4 | 20mL Syringe for dropping coating solvent on the plate | 1 |
| 5 | Drain Hose for disposing of waste water | 1 |
| 6 | Removable Double Side Tape for sticking substrate onto the spindle plate | 1 |
| 7 | 4" Dia. Soken Tape | 5 pcs |