The Lab Programmable Vacuum Chuck Spin Coater CE certified compact spin coater with vacuum chucks designed for easy and quick coating via sol-gel for wafers up to 8" diameter or 5" x 5" square. The spinning speed is variable from 500-6000 rpm with two programmable segments. The heatable cover is optional , which allow drying sample after coating.
The Lab Programmable Vacuum Chuck Spin Coater Coating process: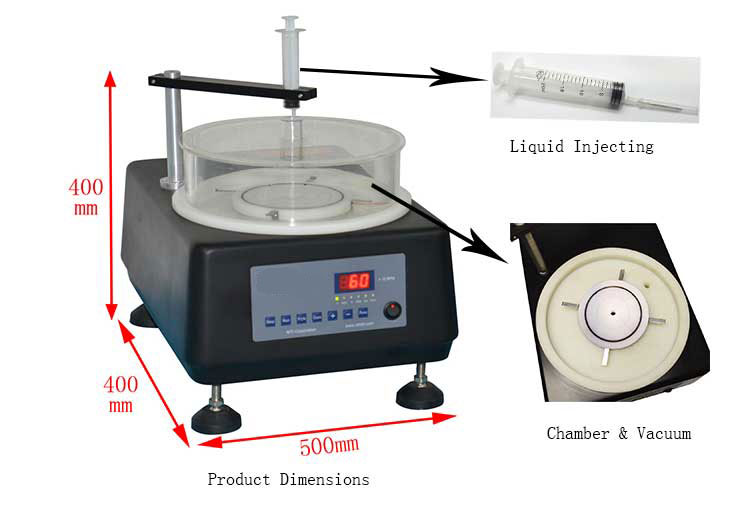 The Lab Programmable Vacuum Chuck Spin Coater has the advantages of simple operation, convenient cleaning, and compactness. It is mainly used in the process of film formation in the laboratories of universities and research institutes. It works by shocking the suction cup to fix the sample. On the sample tray, the device uses two-stage program to control the speed. First, the spin coater is set to set the number of revolutions of the device within a certain number of revolutions. In this range of revolutions, a certain injection time is set to inject the sample. After the injection is finished, the spin coating machine can increase the number of revolutions to the second limit of the number of revolutions to carry out the homogenization. Before the homogenization, the homogenization time should be set. When the homogenization time is over, the machine automatically stops running, and the whole process of the coating process End.
Lab Vacuum Spin Coater Main Feature:
1. Two-stage program control speed
2. Vacuum adsorption method to set up the sample, easy to operate
3. Adopt cast aluminum structure, stable operation and low noise
Lab Vacuum Spin Coater Main Specifications: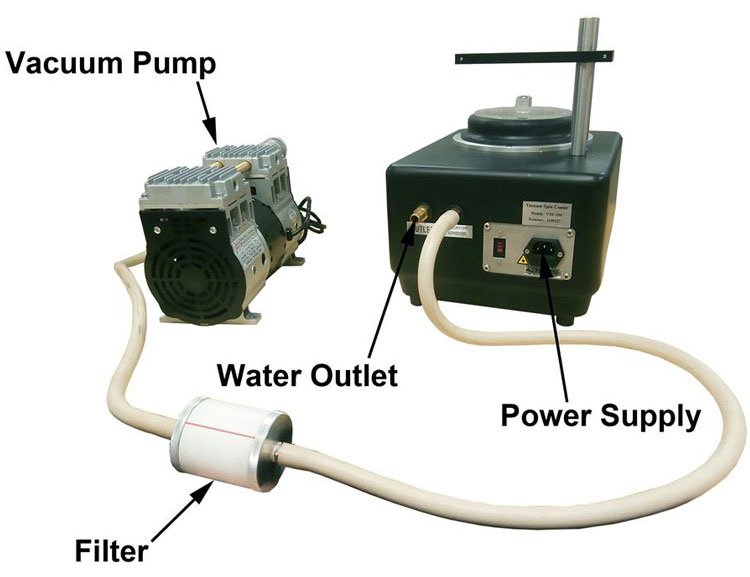 Aluminum casting case to keep spinning stable
Drainage outlet and vacuum pump connector are on back panel
One filter is included in standard package. It is used to connect the pump and coater for preventing waste water from flowing into the pump
One oilless pump is included in the standard package.
Lab Vacuum Spin Coater SPECIFICATIONS:
Chamber & Vacuum Chuck

Chamber diameter is 250 mm, and can accept wafer 8" Dia max. or 5"x5" square
Spinning chamber is made of PP which is corrosive resistant
One 6" vacuum chuck and chuck o-ring are included for holding 6" and 8" wafers
1 piece of Adhesive tape (6'' W x 24'' L) is included for coating irregularly shaped substrates or wafer with size < 6"
Place the irregularly shaped substrate on the adhesive tape, then the vacuum chuck will hold the tape by suction












Spin Speed

Digital control panel with two programmable segments of different spin times and speeds
500 - 6000 RPM adjustable spinning speed for each segment






Liquid Injecting

20mL syringe is used to contain the coating material




The syringe holder height can be adjusted and rotated freely along the support rod




Input Power

AC 110V/220V selectable
There is a built in power socket on the right side of the VTC-200 spin coater. It is used to supply power for the vacuum pump. The output voltage of this power supply depends on the input voltage of the spin coater's main circuit. (e.g. if the spin coater is plugged into the AC 110V power socket, then the built in power socket will supply AC 110V)






Motor Power

90VDC , 150W




Product Dimensions

500mm(L) x 400mm(D) x 400mm(H)




Net Weight

20 kg (44 lbs)




Compliance

CE Certified




Warranty

One year limited with lifetime support
Rusting and damage due to improper storage condition or maintenance are not covered by warranty






Warnings

Do not overflush the water bowl/base with any kinds of liquid. Excess liquid will leak into the motor shaft and cause damage. Please use fabric cloth to wipe out the residues remain in the bow/base.
If necessary, turn on the water outlet when flushing the water bowl/base to avoid liquid overflowing during the operation.
For more details about the cleaning procedure, please review the cleaning instruction for the spin coaters.








Shipping Dimensions

45"(L) x 30"(W) x 30"(H)




Shipping Weight

46 kg (100 lbs)



Lab Vacuum Spin Coater STANDARD PACKAGE:
| | | |
| --- | --- | --- |
| Item # | | Qty |
| 1 | VTC-200 Desktop Spin Coater | 1 |
| 2 | 6" Vacuum Chuck (installed on the machine) | 1 |
| 3 | Plastic Glass Cover for operation safety | 1 |
| 4 | 20mL Syringe for dropping coating solvent on the plate | 1 |
| 5 | 500mm Hose for connecting vacuum pump | 2 |
| 6 | Filter (connect to vacuum pipe to keep water from flowing into pump) | 1 |
| 7 | | 1 |