laboratory high precision Ultrasonic automatic Spin Spray Coater is a cost effective ultrasonic Spin-Spray Coater for liquid-phase, ultra-uniform coating process on a large substrate up to 12". The system consists of (1) a 12" spin coater with the vacuum chuck, (2) compressed air assisted ultrasonic spray nozzle mounted on a swing arm, (3) a heatable syringe pump, and (4) a heat lamp system for substrate heating
laboratory high precision Ultrasonic automatic Spin Spray Coater is Specifications: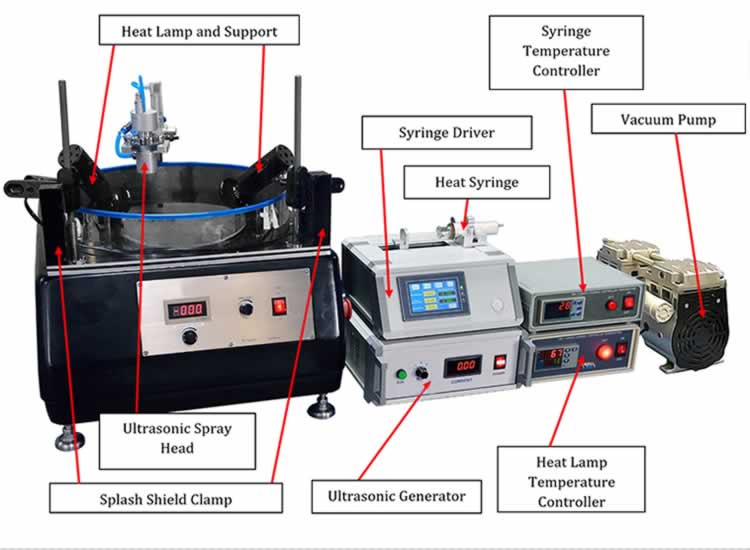 1.Combine the benefits of both spin and spray, enabling dense and uniform liquid-phase coating onto a large substrate.
2.Applications include low-temperature precipitation (e.g., for RF/microwave ferrites deposition), polymer coating, powder and composite material coating, and coating on a patterned / uneven substrate.
3.The system also works on spin alone and spray alone modes.
4.The body is made of acid and alkali resistant, impact resistant and corrosion resistant stainless steel. It will never rust and is easy to clean.
5. Motor start-up is fast and stable, ensuring uniformity and uniformity of coating thickness.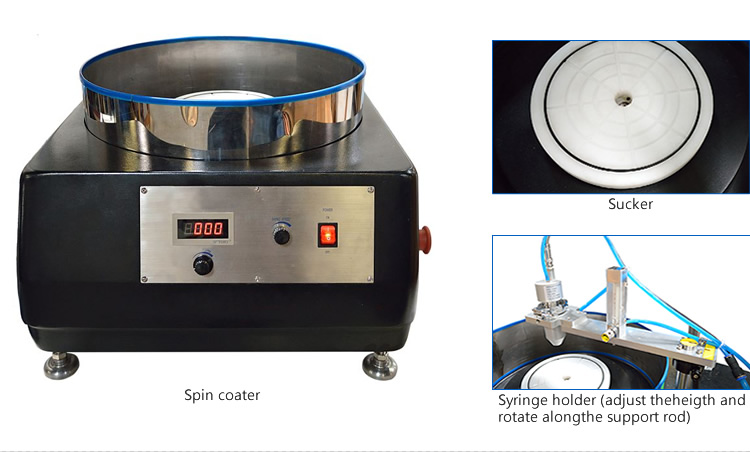 1.Vacuum chunk with adjustable substrate holders for holding flat substrate up to 12" diameter or 8" square
2.One oil-less pump for the vacuum chunk is included and controlled by the spin coater
3.Spin speed: 300 - 3000 rpm adjustable
4.For safety concerns, the speed is recommended to be limited to 2000 rpm for wafers larger than 8"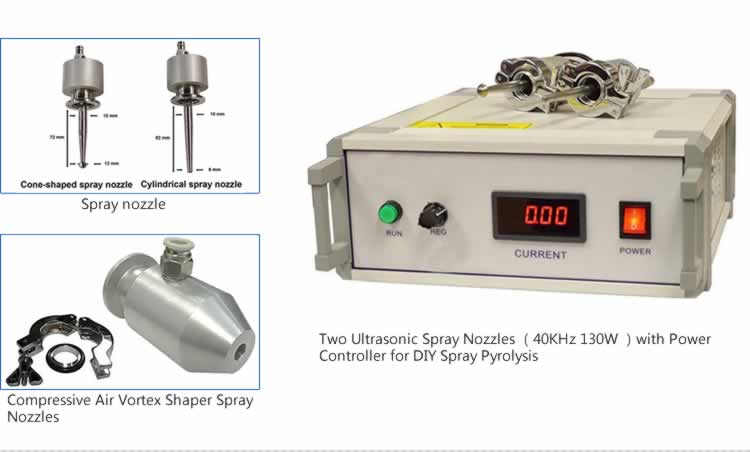 1.One ultrasonic generator with two ultrasonic sprays nozzles with compressed air shaper is included
2.Two spray nozzles with the KF-25 adapter are included.
lOne cylindrical type -- narrower spray ~20 mm diameter
lOne cone type -- wider spray ~40 mm diameter
3.Recommended compressed air pressure for aqueous solution: ~2 psi
4.One flow meter is integrated for regulating and monitoring the compressed air flow
5.Fluid viscosity range: 1 - 50 mPa•s (cP)
6.One swing arm for mounting ultrasonic spray head is built-in with adjustable speed and movement range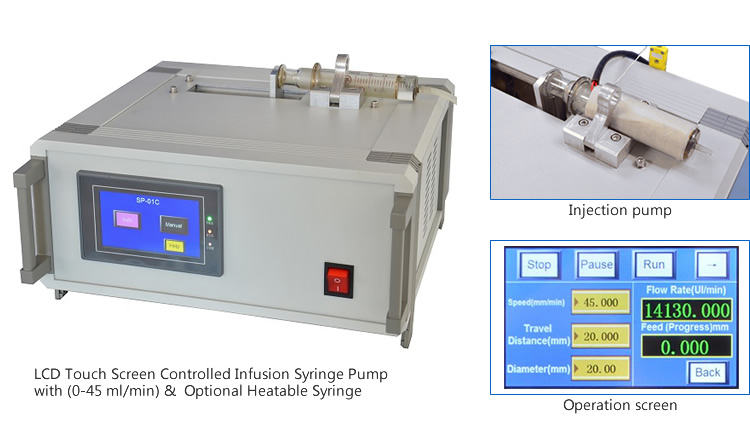 1.A heatable syringe pump with LCD touch screen control is included for delivering liquid to the ultrasonic nozzle
2.One 50 mL syringe is included for immediate use. The unit can accommodate syringe with 0.4 - 30 mm diameter
3.Pumping rate: 0.1 - 45 mm/min adjustable (0.08 mL/min - 35 mL/min for the included 50 mL syringe)
4.Flexible Polyimide heater with 30 segments programmable temperature controller is built-in for heating up to 75 °C