lab desktop anti-corrosion controllable spin coater Mainly used in the laboratory for wafers, glass, ceramics, metal and other substrates, dripping various types of glue, using centrifugal force to make the glue on the substrate evenly coated
lab desktop anti-corrosion controllable spin coater Advantage:
lab desktop anti-corrosion controllable spin coater is suitable for surface coating processes such as semiconductors, chemical materials, silicon wafers, wafers, substrates, and conductive glass.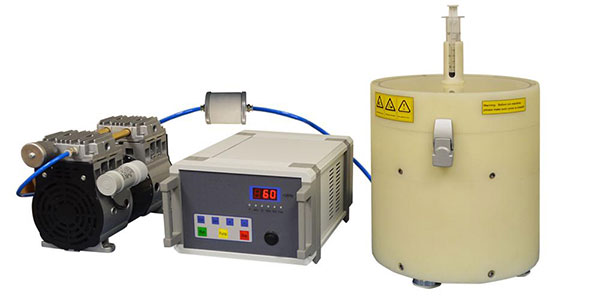 CY-VTC-200P is Anti-Corrosion Spin Coater made of Polypropylene (PP) material, which can be used for active acidic or alkali solution, especially suitable for use inside glovebox under Ar gas. 4'' dia. vacuum chuck is included for coating wafer upto 6". The digital control box is separated from spin coater which allows you operate in the remote location. The spinning speed is variable from 500-8000 rpm with two programmable segments. The package includes the oilless vacuum pump and 20ml syringe for immediate use.
lab desktop anti-corrosion controllable spin coater Application field:
lab desktop anti-corrosion controllable spin coater can be used for the preparation of coating film of strong acid and strong alkaline coating solution. The spin coater works by vacuum adsorption to fix the sample on the sample tray. The device can store 12 sets of programs, each of which contains 6 operating stages. The number of rotations of the equipment in different operation stages is different, so that the equipment slowly increases the speed to the limit speed, which is favorable for the film material to be uniformly formed on the surface of the sample without excessive waste and material saving. The upper cover of the chamber can heat the sample, facilitating the coating process of the dense film material. The spin coater has the advantages of simple operation, convenient cleaning, small size, etc. It is mainly used in the process of film formation in the laboratories of universities and research institutes.
Anti-Corrosion Spin Coater made Main feature:
•Case and spin disk made of Polypropylene (PP) to resist most of the corrosive solutions.
•Digital control box is separated from spin coater.
•One filter is included in standard package. It is used to connect the pump and coater for preventing waste water from flowing into the pump.
•Standard oilless vacuum pump with low noise. The large suction force tightly adsorbs the substrate to the rotary table to prevent the flying piece.
•With vacuum and lid switch interlock to ensure safe operation.
•Inner chamber diameter 150mm, PP anti-corrosive vacuum chuck Φ100mm,can handle debris (less than 1cm) to 6 inch round crystal substrate.
•Digital control panel with 6 programmable segments for different rotation times and speeds.
•The motor starts quickly and stably, ensuring the consistency and uniformity of the layer thickness.
Anti-Corrosion Spin Coater made Specifications:
Input Power

Default 220VAC, 50/60Hz, single phase, 1000W Max.

110V is available in optional bar ( with 1500W transformer )

A power socket on the back of the Digital control box is used to supply power to the vacuum pump. (The output voltage of this power outlet depends on the input voltage of the spin coater, e.g. if the spin coater is plugged into AC 110V, this power socket will supply AC 110V.)

Spin Speed

Digital control panel with six programmable segments of different spin times and speeds

Maximum programmable spin time 6*60s = 360s

500 - 8000 RPM adjustable spinning speed at each segment

Motor

24VDC, Brushless, 200W max.

Net Weight

25 kg
Anti-Corrosion Spin Coater Product Detail: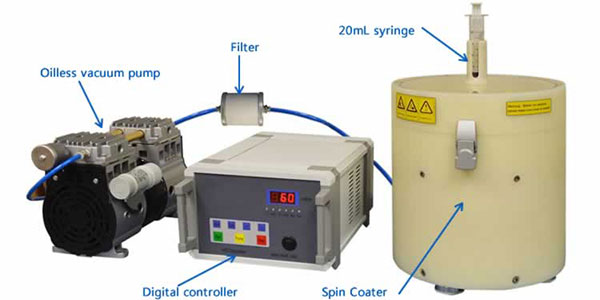 Anti-Corrosion Spin Coater Size
Case and spin disk

chamber diameter: 150 mm

vacuum chuck

vacuum chuck

PP anti-corrosive vacuum chuck Φ100mm, which can hold substrate upto 6" Dia

vacuum pump

120L/min oilless vacuum pump

syringe

20mL syringe is used to contain the coating material

Digital control box

Digital controller: 23cm(L) x32cm(W) x16cm(H)

included




Spin Coater

Spin Coater: 25.2cm(Φ) x 41cm(H)
Anti-Corrosion Spin Coater Standard packing
| | | |
| --- | --- | --- |
| Item # | Description | Qty |
| 1 | VTC-200P Desktop Spin Coater | 1 |
| 2 | Digital control box | 1 |
| 3 | 4" ( 100mm) Vacuum Chuck | 1 |
| 4 | 20mL Syringe for dropping coating solvent on the plate | 1 |
| 5 | 500mm Hose for connecting vacuum pump | 2 |
| 6 | Filter (connect to vacuum pipe to keep water from flowing into pump) | 1 |
| 7 | | 1 |
| 8 | Blue Adhesive Tape (6" W x 24" L) | 1 |
| 9 | Spin disk wrench | 1 |