Benchtop heating roll-to-roll tape casting system is ideal for coating applications such as lithium-ion battery electrode slurry, solid state electrolyte film, and ceramic film research.This set of equipment has a modular design,including retractable roll, scraper, heated display roll module with pressure display and bottom heating drying module.
Benchtop heating roll-to-roll tape casting system main features:
1.R2R fashion enables the automatic substrate feeding and receiving
2.Doctor blade is included for tape casting
3.Bottom heated bed provides uniform heating and drying for the coating slurry
4.Pressure adjustable rolling press, upto 200C, 2 tons
5.Electrostatic dust remover provides particle-free coating environment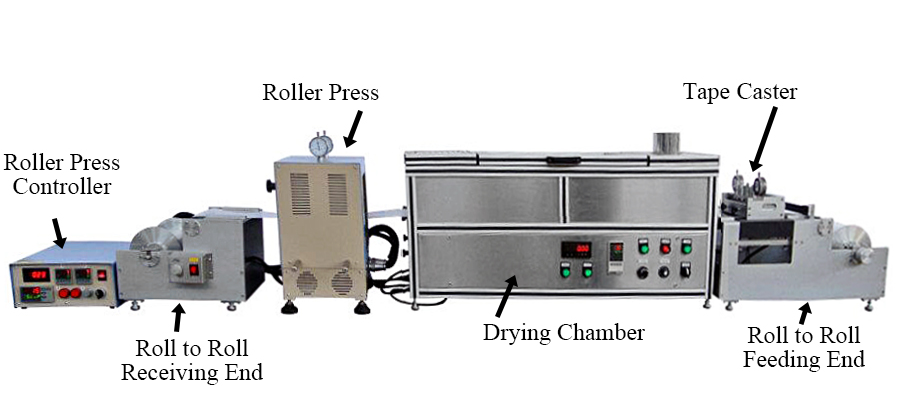 Benchtop heating roll-to-roll tape casting system specifications:
208 – 240VAC, 50/60Hz, Single phase

Max. Power Consumption

1.7 KW

Coating Method & Precision



Tape casting is done with a doctor blade on a flat plate:

Coating Thickness Precision: 10 microns.

One 150mm blade is included. It can take blade up to 180mm width.

Coating Performance



150mm with included doctor blade.

Max. coating width: 180mm with optional doctor blade.

Max. substrate width: 200mm

Speed: 100~800mm / minute adjustable

Thickness: 0~5mm adjustable

Max. Coating Length: Depending on the coating and substrate thickness. (The slurry consumption)

Drying Chamber



100°C Max bottom heating bed

The casting flatbed is enclosed by a1000mm long drying chamber. A 1.5 KW heater enables continuous-flow heated circulation through the drying chamber.

Static Dust Removal System

The use of static system helps eliminate the dust particles accumulated on the substrate and ensure a dust-free coating environment.

Heatable Roll Pressing System



Effective calendering width: 200mm

High strength hardening steel with hardness RC > 52 (Attention: It is not suitable for calendering materials with RC > 45)

Roller surface is plated by Cr for anti corrosive property

Roller Size: 96 mm Dia. x 220mm W

Temperature Upto 200℃ max.,

Pressure Upto 2T

Roll Pressing Performance



Roller Gap: 0~2 mm adjustable

Dial Gauge Accuracy: 0.01mm

Pressure: 0~2T (Note: the actual calendering force is dependent on the material physical properties such as hardness and thickness. The rolling gap thickness will also affect the applied force.)

Roller Heating System

· Two digital temperature controller with 30 segments programmable for control two rollers separately

·150℃ suggested (200℃ maximum)

· Max Heating Rate: 4℃/minute

· Power of Heating Elements: 1600W

· Temperature Control Accuracy: +/-5℃

Dimensions & Weight

· 2400mm L *400mm W *450mm H with dust shield closed.

· 2400mm L *400mm W *700mm H with dust shield opened.

· 300 kg

Warranty

1.One year limited warranty with lifetime support.

2.Rusting and damage due to improper storage condition or maintenance are not covered by warranty (Please use Acetone to clean and dry the doctor blade, slurry feeder, and roller to avoid rusting).